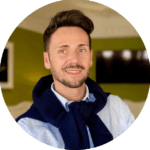 Hello
,
My name is Piotr and I am your Customer Care Specialist at Lexidy.
I will help you with any information across our Immigration, Real Estate, Corporate, Tax and Litigation departments. Our English-speaking lawyers are ready with solutions as soon as you need them.
Why Lexidy is the right choice for you ?
Lexidy takes all inquiries very seriously and never compromises on a professional and personalised client result. Our customers are always at the centre of our focus.
ASSISTANCE WITHOUT BORDERS.
Our clients located in more than 150 countries worldwide.
THE FIRST FULLY DIGITAL LAW FIRM.
All legal activities executed and delivered digitally.
Direct and fast Communication
We encourage our legal teams to collaborate to maximise the speed and quality of your solution.
Are you still unsure if Spain, Portugal or Greece is the right relocation option for you?
Spain, Portugal and Greece are unparalleled places to live with unmatched food, hospitality, security, self-development and much more. As immigration experts, we support and guide you through the process of seeking residency and help you to start enjoying life. Our Residency Permit solution allow you to travel throughout Europe as a tourist without restriction.