Payroll & Labour Services in Spain
… setting you on the best path to your new adventure. 
Work with English-Speaking Payroll Professionals in Spain:
Our international team of payroll experts deliver cross-border payments and international employment guidance to any sector, whether they work with employees, freelancers or private clients. 
You can leave complex issues like employment advice, labour contracts, payroll and social security matters to us. Give yourself the space to focus on what really matters and be more efficient.
Where Lexidy delivers the difference
Our international clients relax in the knowledge that they comply with Spanish employment regulations and obligations. They leave the employment and payroll management to us, so that they can focus on what they do best.
We efficiently adapt the regulatory and legal changes, so that you remain fully compliant with your legal requirements. We can act quickly to support our clients with new local labour legislation as well as larger complicated requirements (like the GDPR).
We have increased our number of payroll clients by 200% over two years, and have tripled the number of freelancers we have helped. Our genuine track record of success with large clients and individuals says it all.
Learn About Our Labour Services
Once you build your successful business vehicle, it is fundamental to focus on growing and nurturing work relationships. Your team is the key ingredient of any company's success, and it can be difficult to develop the way you'd like in a different country.
In order to confront all the new challenges, the legal experts at Lexidy help our clients to see that labour law is not a constraint. Above all, it is an opportunity to protect your company's interests.
EMPLOYMENT AGREEMENT SERVICES
In general, we draft, revise and negotiate employment contracts from the simplest to the most complex, in English and Spanish.
Often, we provide counsel on the application of collective bargaining agreements applicable in Spain. We also advise on the various regulations that govern labour law, health and safety and data privacy and protection.
Finally, we assist with the swift and effective termination of an employment agreement. 
Want To Learn About The Exact Labour Services We Provide? 
The Lexidy Payroll and Services Department can help you with:
We draft your employment contracts for your employees including the necessary clauses in order to cover your business needs.
Advice on Senior Management Contracts
A senior management contract is the document signed by the company and the employee by virtue of which the rights and obligations of the special senior management relationship are regulated by the parties, always respecting the non-mandatory regulations governing this special relationship, Royal Decree 1382/1985, of August 1, which regulates the special employment relationship of senior management personnel.
(Due to its complexity and the complex clauses that are usually included in these contracts, at Lexidy we advise both employees and companies in order to offer them greater security when initiating this special employment relationship.)
Advice on Special Agreements (Including non-competition clauses, mobility clauses, and more)
Our team can perform studies of special company-employee clauses and agreements in order to understand their risks, benefits and consequences.
Advice on collective agreements (Salary according to the agreement, updates, arrears and more)
At Lexidy we study and summarise the Collective Bargaining Agreement in order to make you aware of its risks, benefits and consequences for you and your business.
Challenging labour sanctions
After being sanctioned by your employee, at Lexidy we study the possibility of appealing the sanction in accordance with the labour legislation in force and the rights of the parties.
Advice and defence in the event of geographical mobility or substantial modification of contract conditions
In the event of being displaced by a company decision, Lexidy will advise you on the possibility of challenging the measure.
We file monthly Social Security contributions on behalf of your employees.

We obtain the "Contribution Code" that's required from the Spanish administration to hire employees.

We register employees and their employment contract with Social Security.

We advise and calculate the Social Security costs to companies and freelancers.

We register companies and self-employed workers with Social Security.

We liaise with Spanish administration officials and complaints on your behalf.
PAYROLL MANAGEMENT SERVICES
We deliver your employees payslips with a detailed breakdown of their contributions.

We prepare the liquidation of the severance pay and settlement at the end of the employment agreement.

We also perform salary simulations to help inform your hiring strategy.
EMPLOYMENT REGULATION SERVICES
Overall, we provide a comprehensive analysis of the collective agreement applicable to your company. We do everything from preparing employment handbooks so your company understands policies and procedures to advising on legally effective dismissals.
Want To Learn About The Exact Employment Regulation Services We Provide? 
Disciplinary dismissal proceedings
If you need to fire an employee for disciplinary reasons, Lexidy can accompany you on the drafting of the dismissal letter, and if necessary to the trial and possible appeals. Also, in the event that you have been unfairly dismissed, we can defend your rights throughout the whole procedure.
Proceedings for objective dismissal
In the event of having to fire employees due to objective reasons, the legal team at Lexidy can draft the dismissal letters and handle any trials that arise as a result.
Proceedings for Termination of Article 50 ET due to employer's non-compliance.
The legal team at Lexidy can help you handle proceedings as a result of Illegal transfer of workers to third parties and temporary employment agencies.
This is known as Illegal assignment, and it is the situation where a company hires one or more workers for the sole purpose of having them work for another company. The company that hires the worker and then transfers him/her to another company must have no organisation or activity of its own, its sole purpose being to transfer the worker.
At Lexidy we can defend both companies/employees in these complex procedures to solve a situation that would otherwise be very costly for you.
What Our Clients Are Saying
Our team of experienced labor lawyers is ready to assist you and provide you with the guidance and representation you need.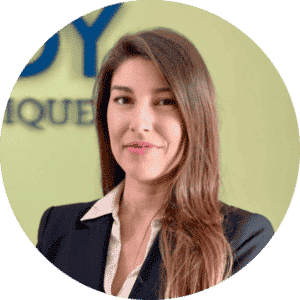 Head of the Payroll Department
Once you have the vehicle, it is fundamental to focus on developing the labour relationships as they are the key ingredient of the business's success.
In order to confront these new challenges, it is always exciting to advise the client in ensuring that the labour law is no longer a constraint but, above all, an opportunity to protect its interests.
Be happy. Join a community of satisfied and successful customers
Frequently Asked Questions