The seductive sunsets, affordable lifestyle and coast, coast, coast wherever you look– every trip to Spain is so special and you unique that you just want to move there. If you are really considering a new life in Spain, it may be easier than you think.
Follow the guide below for everything you need to know about moving, buying, or renting a property in Spain as a German national.
(Updated by Lexidy Staff 7/2023)
This guide will cover the main questions that might arise for you as you decide whether to move to Spain as a German national. Furthermore, the guide will dive into the current market conditions to help German citizens, among other international citizens, to understand the quality of life they will be able to obtain here.
In general, Europeans consider the Spanish real estate market among the most attractive in the EU. Read on if you wonder whether now is the right time to move or invest in Spanish real estate.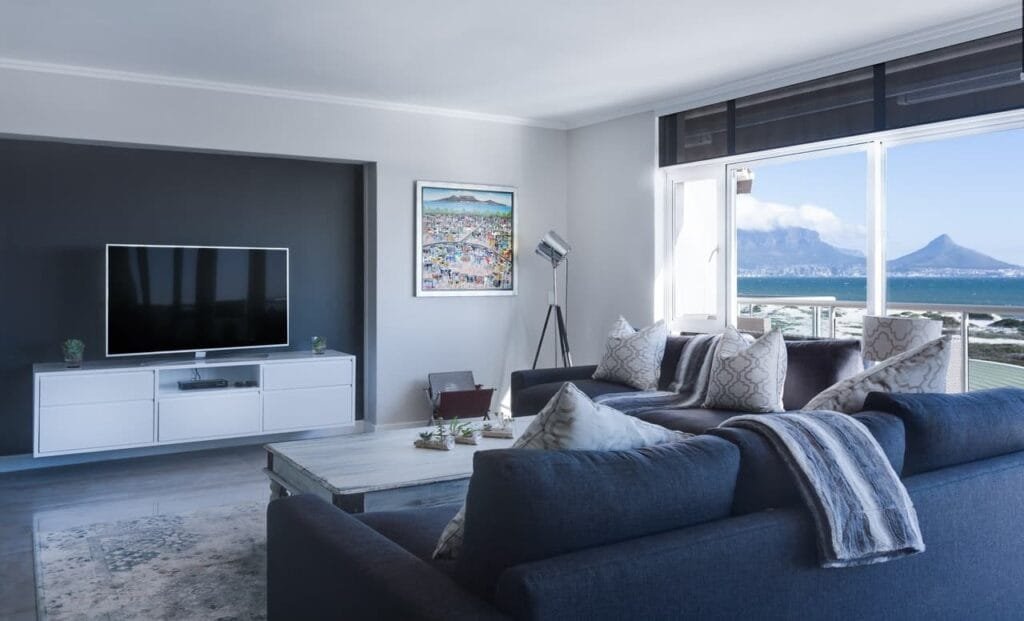 Germans Moving To Spain: Immigration Statistics
There are around 120,000 people of German nationality who have moved to Spain.
Most of them reside mainly in the Balearic Islands, Cataluña (Barcelona), Canarias (Santa Cruz de Tenerife) and Comunitat Valenciana (Alicante).
What do these autonomous regions have in common? The weather, the landscape and the wide range of air connections to Germany.
No surprise, but Barcelona is the most attractive place for Germans moving to Spain. As many as 6.4% of Germans living in Spain reside in the Catalan capital. So, if you are considering moving to Spain yourself, don't worry, you are sure to meet some compatriots here.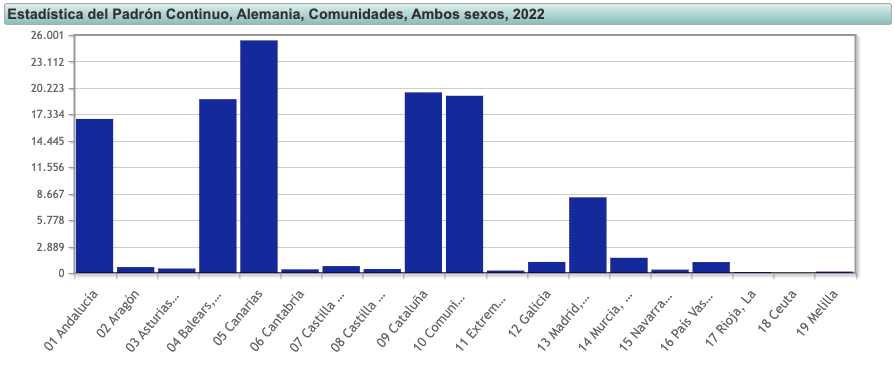 Continuous Census Statistics, Germany, Communities, Both sexes, 2022. National Statistical Institute.
Lawful Immigration For Germans Moving To Spain
Lawful immigration: residence in Spain
To visit or to live in Spain, you as an immigrant must still follow Spanish laws. These laws vary depending on whether you belong to the European Economic Area (EEA) or, have a passport from another country (called a "Third Country").
European Union citizens or those from an EEA country enjoy greater flexibility to travel and residence in the EU. Therefore, as a German, you should find the process of moving to Spain relatively easy!
Firstly, if you are an EU, EEA, or Swiss citizen residing in Spain for more than three months, you must request an EU registration certificate. This simple document certifies that you are registered in the Central Register of Foreigners in Spain.
The process explained
Any EU or EEA citizen can reside in Spain for more than three months if:
a. You are an employed worker in Spain.
b. You are a self-employed person in Spain.
c. You have sufficient resources to support yourself and your family members. You must also have Spanish health insurance or coverage that is valid in Spain.
d. You are a student enrolled in an academic institution and have Spanish health insurance.
In some instances, your family members can also come to reside in Spain with you if they meet the following definitions:
a. For a student's family member – your spouse or registered domestic partner or the children of the student and their spouse or dependent partner.
b. In all other cases – the spouse or registered domestic partner, your children and those of your spouse or partner under 21 years of age, and your parents or those of your spouse or registered partner who live in your care. These criteria are extended to children over 21 years old who need special care.
So, if you are German and you meet any of these requirements, you will have the possibility to apply for the certificate of registration as an EU citizen and come to live in beautiful and sunny Spain.
EU citizens or those with permanent residency in an EU country also enjoy greater flexibility to travel and live throughout the European bloc. Therefore, as a German, you will find the process of moving to Spain simple.
However, EU citizens can only reside as tourists in Spain for three months, so you need a visa for more extended stays. Finally, you will need to meet some requirements such as:
+ Proof of sufficient financial funds
+ Health insurance
+ And a clean criminal record
How Can We Help You?
Schedule a free consultation below and one of our lawyers will be in touch.
Housing in Spain: Buying or Renting for Germans Moving to Spain
Finding an accommodation of your choice can sometimes be tricky. Therefore, this section might interest you if you are a German who is moving to Spain and looking to buy or rent property.
To start off, you must decide on the type of house or apartment right for you. To do so, it's often helpful to decide with the help of Real Estate Agents who know the area, the local culture, and the cost of living there. Most don't speak English or German, so we recommend working with English-speaking Real Estate lawyers. They can help you with Real Estate Agencies and work with them through the whole process.
To buy a property, you will first need a foreign identification number, called a NIE in Spain. This is a unique number to everyone that enables you to execute financial transactions in Spain.
We recommend opening a Spanish bank account as it simplifies most formalities, though it is not compulsory.
The Process For Renting or Buying Step-by-Step:
The process differs for the type of asset you are buying or renting. However, it will generally go as follows:
Budget planning. In Spain, the costs may vary depending on the Autonomous Community. Taxes and other fees you as the buyer may have to pay include:

Property transfer tax: usually, it is 10% of the property's value (ITP or IVA depending on whether it is an existing property or a new one).

Notary costs, title deed tax and land registration fee 1-2.5%

Legal fees can be around 1-2% of the property's value.
Obtain your NIE and open a bank account.
Make a reservation agreement of the property with the vendor.
Conduct Due Diligence to uncover any critical issues with the property.
Possible "Arras Contract": This is essentially a deposit to buy the property. The buyer or seller can be penalized for breaking this agreement.
Deed of purchase and sale with notary assistance.
Post-sale services. These services include changing the ownership of water, electricity and gas supply contracts to your name. It may also include informing the City Council of the change of owner and settling any corresponding taxes.
Our Real Estate Lawyers are more than used to dealing with this process and are here to help Germans move to Spain.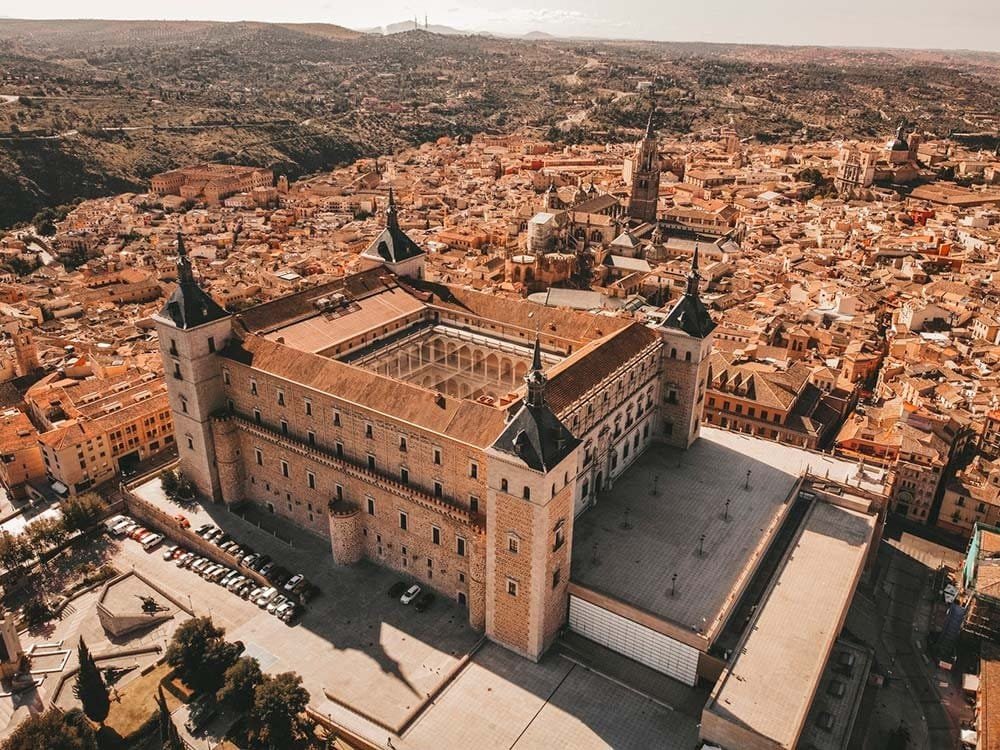 Taxes When You Choose To Reside In Spain
The buying or renting of a house in Spain usually involves paying taxes. That's why it is strongly advisable to open a Spanish Bank Account. The truth is that Spain's best banks offer accounts for residents and bank accounts for non-residents. It's easy to convert your account once you receive the right to residency.
However, both residents and non-residents need to file an annual tax return. We recommend working with a local tax lawyer on these matters.
Spanish Real Estate Market As of 2022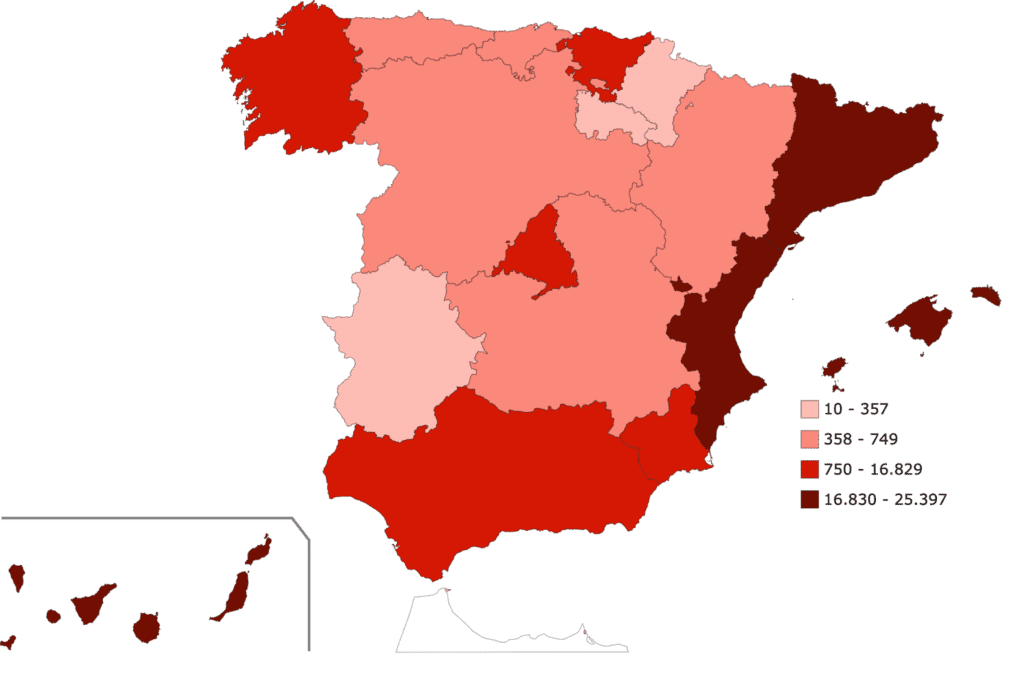 It is true that COVID-19, and specifically the mobility restrictions and confinement measures, have had a worldwide social impact, of which the Real Estate market has been no exception.
The truth is that the Spanish Real Estate market has been moderately affected, with a slight decrease in prices and transactions. However, sales have recovered since early 2021, and new building permits have picked up more gradually. Therefore, we expect home prices to continue to post moderate but sustained gains over time in the coming quarters.
Currently, investing in a property in Spain can still provide you with a profitable asset, as it is a country that offers very varied and unique opportunities. However, it is crucial to have the proper guidance and legal assistance from experienced lawyers who thoroughly know the Spanish Real Estate sector. At Lexidy, our experienced, passionate legal team always maintains the client's interest as our main priority during the whole process of buying, renting, or investing in a property.
What we can do for you?
At Lexidy, we specialize in all services required when investing in Spanish real estate. We draft reserve and arras contracts perform due diligence and other essential property checks before purchasing, like settling taxes. We aim to provide a complete service to our clients for a smooth, efficient, and safe purchase, always focusing on proximity and communication with the customer.
What excites us the most is to be able to deliver the happiness and satisfaction of a successful immigration process. We want to help you achieve your goals and dreams, whether it's residence in Spain or simply an investment, so don't hesitate to reach out through the form below today.