Spain permanent residency is a sought-after status for people of all ages worldwide. However, achieving it can be challenging. It requires a significant investment of time and effort, and the process isn't always straightforward.
It's important to be aware that spending too much time outside of Spain can be a major risk to your residency application. So, if you're aiming for permanent residency, it's crucial to understand the importance of maintaining your presence in the country.
Keep reading to learn everything you need to know about keeping your residency in Spain. We're here to keep you informed and ensure your path to residency is as smooth as possible.
(Blog Updated November 2023)
Spanish Residency Rules: How long

is too long?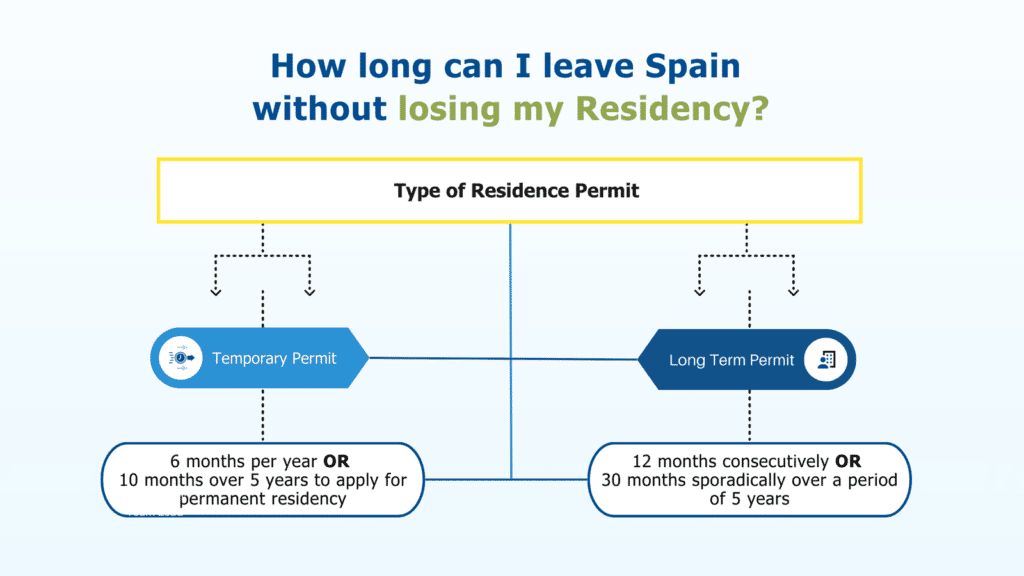 So, you've obtained that coveted residency card in Spain. Great! However, as a foreigner, you'll likely want to leave Spain from time to time to go on vacation or visit your home country.
But be careful, if you spend too long outside of Spain you could be at risk of losing your residency.
In Spain, the law dictates a certain amount of time you can spend outside of Spain when you have a residence permit.
But how long is that exactly? Well, the answer depends on the type of residence permit you have.
Temporary Residence Permit Spain
First, we have temporary residence permits. These are generally issued for 1 or 2 years.
For these permits, the Spanish government has set the limit at six months per year. Any more than that can cause issues for those working on permanent residency applications.
What's more, if you're interested in applying for permanent residency, you could be rejected if you have spent more than a total of 10 months ​outside of Spain in those 5 years. So, make sure you keep track of all your trips outside of the country.
How Can We Help You?
Schedule a free consultation below and one of our lawyers will be in touch.
Long-Term Residency Permit Spain
In the case of long-term, long-term EU, or permanent EU cards, you are allowed to leave the country for a longer period.

With this type of permanent residency permit, you can leave the European Union for a maximum of 12 months consecutively or 30 months sporadically over 5 years. So, there is more flexibility here.
What are the potential consequences for your Spain Permanent Residency if you leave for too long
You shouldn't take your chances and surpass the outlined periods for several reasons.
Loss of residency status
This is the worst possible consequence, should we even go on? If you leave Spain beyond the allowed timeframe, you risk losing your residency status.
This can lead to difficulty obtaining a new residency permit. It can even lead to difficulty returning to Spain at all. If this happens, you will have to start over from scratch.
Tax implications
If you are a Spanish tax resident, you are subject to Spanish tax laws, which require you to pay taxes on your worldwide income. Spending too much time outside of Spain may affect your tax status. It can potentially make you liable for taxes in other countries. Sounds expensive, right?
Difficulty renewing documentation
If you spend a significant amount of time outside of Spain, you may have difficulty renewing important documentation, such as your passport or permanent residency.
And you know that generally, the Spanish government completes paperwork for renewals in a flash (a joke to ease the pain).
Impact on social benefits
If you are receiving social benefits in Spain, such as healthcare or unemployment benefits, spending too much time outside of the country could make you ineligible for those benefits.
Difficulty integrating
Of course, spending a lot of time outside of Spain can also make it challenging to integrate into the Spanish community. You are likely to miss out on cultural events and opportunities to connect with locals the way you could with permanent residency in Spain.
It's important to note that the consequences of spending too much time outside of Spain can vary depending on your specific circumstances and the length of time spent abroad. If you are planning to spend an extended period outside of Spain, it's essential to plan ahead with a professional to make sure you understand the potential consequences and can take steps to mitigate any negative impacts.
Are there any exceptions to the rules for permanent residency in Spain?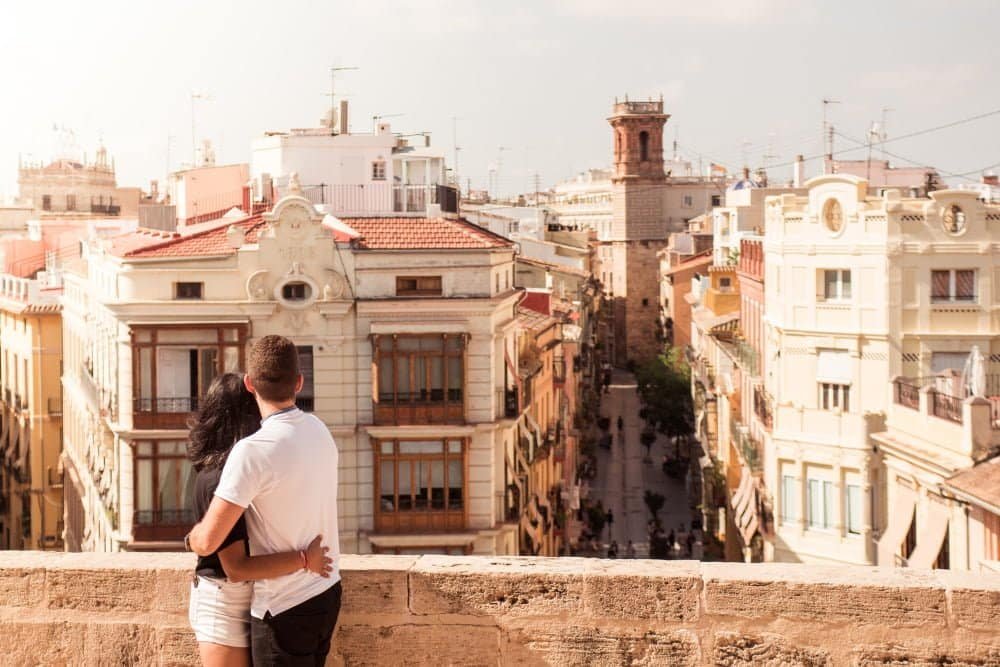 The general rules mentioned above are relatively far-reaching, but there are a few exceptions.
1. Those working for organizations that act in the public interest
To begin, you can stay more than 6 months per year outside of Spanish territory by working for non-governmental organizations that act in the public interest by performing research projects, development cooperation, or humanitarian aid.
However, keep in mind these organizations, associations, and foundations must be officially recognized and registered.
2. Investors and entrepreneurs who hold Golden Visas
Another exception is holders of the Residence Visa for Investors, Entrepreneurs, Highly Qualified Professionals, Investigators, and/or Employees realizing intra-company movements and their families. They are commonly referred to as Golden Visas.
The holder of a Golden Visa can renew their residence even when they have absences of more than 6 months a year.
This can be a good option if you are an investor or employee and want to do business outside of Spain while keeping your base of operations there.
Frequently Asked Questions about Spain Permanent Residency
1. How do I calculate time away for my Spanish Permanent Residency?
For long-term or permanent residency cards in Spain, time away is counted from the moment you leave the European Union until you return.
For temporary residency cards, which typically allow a six-month absence, simply count the days you've been abroad in the past year from the current date, ensuring it doesn't exceed six months.
2. Can I recover my residency card that has expired due to excessive time abroad?
If you've been outside Spain for too long and your residency card has expired, here's what you need to know.
Long-Term Residency Card Recovery:
Applies to 5 or 10-year cards.
If you've been away for more than one year, you can recover your card.
Apply for a specific visa at the Spanish consulate in your current country.
The consulate will liaise with Spanish immigration to check your background.
If cleared, you'll get a visa to enter Spain, re-register fingerprints, and recover your card.
In some cases, you can request recovery after entering Spain, but it's rare.
Temporary Residency Card Recovery:
If you have a temporary residency card and leave Spain for too long without renewal, the card is permanently lost.
To return to Spain, you'll have to start the visa or residence permit process from scratch.
The exception is for those who voluntarily returned to their home country and have a job offer in Spain.
To avoid these complications, it's best to adhere to the time limits discussed earlier.
3. What if I am a family member of an EU citizen? Do these rules apply to me?
The residency card for family members of EU citizens, despite its five-year validity, is considered temporary. To maintain this card and be eligible for renewal
With this in mind, you can be away from Spain for a maximum of six consecutive months in a year.
However, after five years, you can renew this card for a permanent card under the Community regime (valid for 10 years). With this type of permanent residence card, you can leave Spain for up to two consecutive years.
Conclusion
In conclusion, you can enjoy the freedom of travel outside Spain while maintaining your residency.
However, it's crucial to be aware of the specific rules that apply to your situation. A bit of foresight and planning can ensure that your journeys don't put your residency status at risk.
Can Lexidy help me with permanent residency in Spain?
Of course! Lexidy's team of immigration superstars is here to help people with a vast range of queries relating to Spanish immigration and residency.
Our multilingual international legal eagles are here to help. Ready to make your Spanish Permanent Residency dreams a reality? Get in touch for a free consultation by filling out the form below.